SWISS AUTOMOTIVE GROUP - Delegate and CEO
Sandro Piffaretti
Delegate
Sandro Piffaretti was born in Ticino (Switzerland). After studying business administration in
Fribourg, he worked as an auditor and consultant at Arthur Andersen. In 1997, he and his mother jointly bought Derendinger AG, which had been founded by his grandfather in 1930. Following successful MBA studies in Cranfield, Sandro Piffaretti assumed the position of CFO of the Derendinger Group in 2000. From 2002 to 2005, he led Derendinger AG and successfully restructured the Spanish subsidiary Gerstenmaier SA in 2005. From 2006 to 2007, Sandro Piffaretti headed the purchasing department of the Derendinger Group. From 2007 to 2013, Sandro Piffaretti served as Vice-Chairman of the Board of Directors; subsequently, from 2013 to 2018, he served as CEO. Sandro Piffaretti has been Delegate of the Board of Directors since 2018.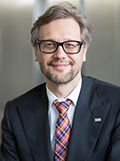 Sandro Piffaretti
Delegate
Arpad Csehi
CEO
Arpad Csehi "Arpi" was born in 1975. He holds two master degrees, in Finance and law and worked as a university lecturer. In 2003 he began his career at Autonet as a Financial Controller and was appointed CFO in 2004. He became General Manager of the Autonet-Group in 2012 and board member of Autonet-Group in 2016. During these 15 years with Autonet, Arpi has acquired a tremendous expertise in all our business areas and he has been instrumental in successfully growing our Group.